6-16 July 2023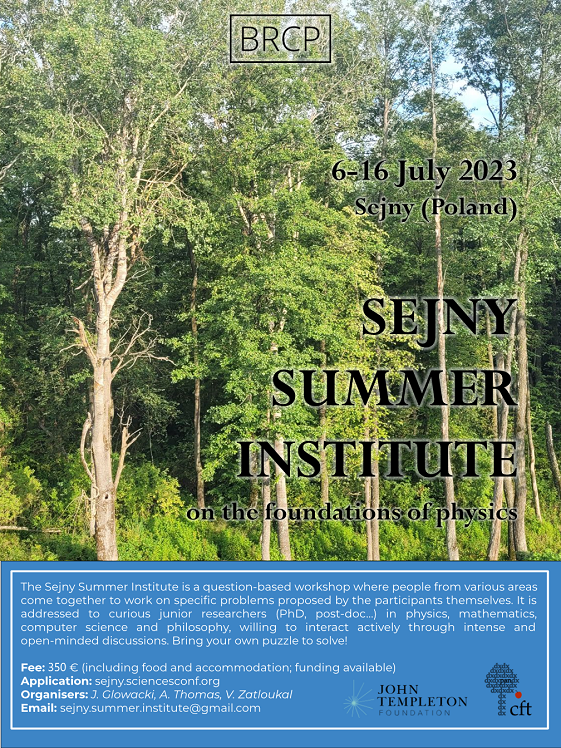 The Sejny Summer Institute is addressed to curious junior researchers (graduate students, post-docs, etc) from different areas of the foundations of physics (mathematics, theoretical and experimental physics, computer science, philosophy), willing to engage in active and open-minded discussions. Far from the format of traditional conferences and subject-specific workshops, the Sejny Summer Institute will be structured around the freely developing investigation of problems by small multi-disciplinary groups of researchers.
During the ten days of the Sejny Summer Institute, we will follow a four stages development that we call Ask-Learn-Investigate-Share. Each participant will come to the Institute with one problem that he or she wishes to discuss and deeply think about with other participants. After discovering the panoply of questions, you will have the opportunity to learn the details of some problems of your choice (and, of course, explain the details of yours!). Then, the participants will be gathering in smaller groups to clarify their ideas, develop research directions and look for solutions. Toward the end of the stay, the results of the process will be shared.
This event is organised by Jan Głowacki (Center for Theoretical Physics of the Polish Academy of Sciences), Alexander Thomas (University of Heidelberg) and Vaclav Zatloukal (Czech Technical Univ. in Prague). The conference is organised within the BRCP (Basic Research Community for Physics). It receives financial support from the John Templeton Foundation (through the consortium Quantum Information Structure of Space-time ID# 62312 grant).
More information here.